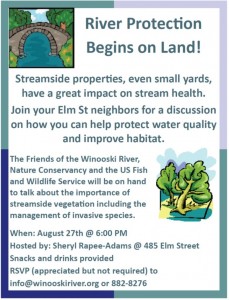 The Garden at 485 Elm grows on a property that has 400 feet on the North Branch of the Winooski River. The garden's 1/4-acre is on higher ground than the riverfront. Still, we wondered if we could do anything to take better care of our waterfront. Montpelier is prone to flooding, from downtown to all low-lying properties on the North Branch and on the Winooski itself.
Someone suggested we call Friends of the Winooski River. We did. Fast-forward to August 27, 2014.
Over twenty neighbors and local officials attended an enjoyable evening of delicious food and edifying discussion with:
Several Elm Street property owners and local officials expressed interested in buffer plantings and invasive removal.
Do you wish you could have been there? We can't reproduce that evening's yummy food for you, but the workshop was recorded for ORCA Media.  When the video is available, we'll be sure to post the link widely.
Additionally, stay tuned for a follow-up workshop. Chip Darmstadt, executive director of the North Branch Nature Center, suggested that the Friends of the Winooski River lead an invasive plant identification workshop at the Nature Center. People want to know what knotweed, honeysuckle, and other unwelcome species look like.