Enjoy a talk among the plants about gleaning, which maximizes plant health, prevents food waste, and feeds community members in need.
Community Harvest of Central Vermont gleaned nearly 200 pounds in 2014 from The Garden at 485 Elm. See photos from the first gleaning and the second gleaning.
Weather permitting, this talk will be followed by a picnic/casual potluck outdoors. Please bring your own plates, utensils, napkins, etc., to use. (No alcohol, please.)
---
Community Harvest of Central Vermont's director Allison Levin will come to The Garden at 485 Elm to share about the CHCV's work, its many partners in the community, and how gleaning fits into the local food system.
CHCV's Founder and Director, Allison C. Levin, is the daughter of organic vegetable farmers, in Vermont's white river valley – Tanyard Farm and later Four Springs Farm. In her teens and twenties she helped manage harvesting crews and later her father's farm. She has a detailed knowledge of how to grow, harvest, and store almost all crops grown in our region. Allison has long-established relationships with local farmers and the broader farming community. Her upbringing instilled in her a deep commitment to ensuring that everyone has access to healthy, locally produced food. She lives in Berlin with her husband and two sons, in a 200-year-old farmhouse surrounded by flower, vegetable, and fruit gardens.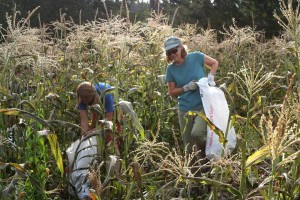 CHCV is a local grassroots community service program working to address food security and waste issues in our community. CHCV's mission is to bring our community together through gleaning to recover surplus food produced on Central Vermont farms and to utilize this recovered food to feed those in our community who have limited access to healthy, fresh, local food.