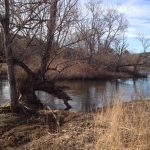 As part of Fall Water Fest (complete schedule below), at 9 a.m. on Saturday, September 17, we'll meet at the Garden at 485 Elm Street, and walk until approximately 11 a.m.
We'll look for late summer changes along the river.  What is fruiting, flying, feeding?
What limits and what benefits the wild things we share the valley with?
How can we keep the water clean at the edge of town?
Led by naturalist and gardener at 485 Elm, Ned Swanberg.
Level walking less than one mile.  No cost .