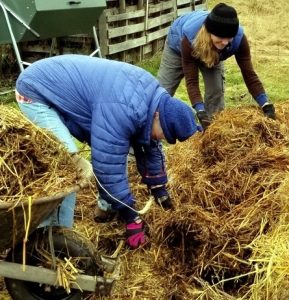 Most of our crops have been harvested. Just a few hardy greens and Brussels sprouts remain. We've tested and amended the soil and planted winter cover crops for nutrient replenishment.
But we're not quite done. Nature doesn't tend to leave bare earth. We mimic that natural process by covering the beds with mulch.
We chose affordable straw. Straw mulch protects the soil from harsh winter cold and feeds the organisms that inhabit and fortify the earth. This will help next season's crops be more pest resistant, healthier, and even more nutritious and delicious.