We've planted seeds and some seedlings that don't require consistently warm soil and sun: beans, beets, Brussels sprouts, carrots, chard, cilantro, kale, onions, parsley, peas, salad greens, squashes, and spinach.
We even had time to rebuild the tomatillo box. Here are some scenes from the gorgeous long Memorial Day weekend in the garden.
In keeping with the trend of recent years, we've had a long, cold, wet spring. Daytime temperatures are still in the 50s to 70s, nighttime in the 30s to 50s. When it warms up more, likely in mid-June, we'll plant basil, cucumbers, eggplants, peppers, tomatillos, and tomatoes.
Gardeners prepped the winter squash bed and planted butternut, delicata, and other varieties of a favorite crop. We planted two rows of summer squash too.
Most 485 Elm crops are available for gardeners to regularly pick as much as they'll eat in a meal, but some popular crops that produce in limited quantities are divided into shares: winter squash, garlic, onions, and Brussels sprouts.
We planted cilantro and parsley from seed and seedlings to stagger the plants' productivity. The seeds were donated by High Mowing, Hudson Valley, Renee's Garden, and Seed Savers Exchange. We purchased the seedlings from Heartwood Farm at the Montpelier Farmers Market.
The tomatillo box, made of old wood from a former 485 Elm gardener's community garden plot in another Vermont city, was coming apart at the corners. The former structure that supported the tomatillos had fallen down. Now it's rebuilt and ready for these self-seeding baby tomatillo plants to climb.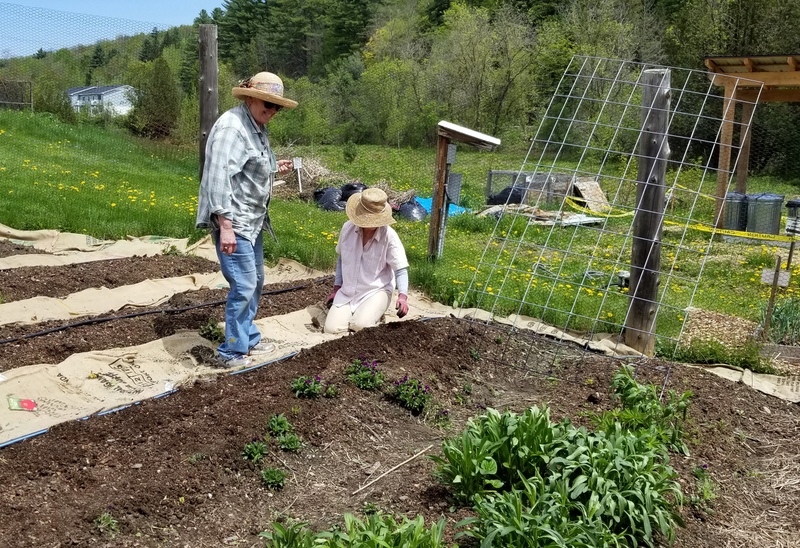 Outside the garden fence, the perennial bed is the public face of the Garden at 485 Elm. Elm Street doubles as busy Vermont Route 12. In addition to appreciating the beauty of this roadside bed ourselves, we hope passersby and neighbors enjoy it.
We ate extremely well at the first delicious outdoor potluck of the garden season! Our new "gardener facebook" was ready just in time for a long, beautiful weekend in the garden.