Gardening here this season means adhering to the COVID-19 rules.
Our new garden health and safety team devised them to support three groups we identified:
Gardeners taking recommended precautions while still visiting public spaces
Gardeners in high-risk households who are nearly quarantined
Those not taking the recommended precautions. In addition to less-conscientious gardeners who mean no harm, members of the public could wander into and around the garden
We aimed for practical rules that are likely to be followed while allowing high-risk gardeners to be safe if they take extra protective measures for themselves. Expect updates as conditions change and we learn more.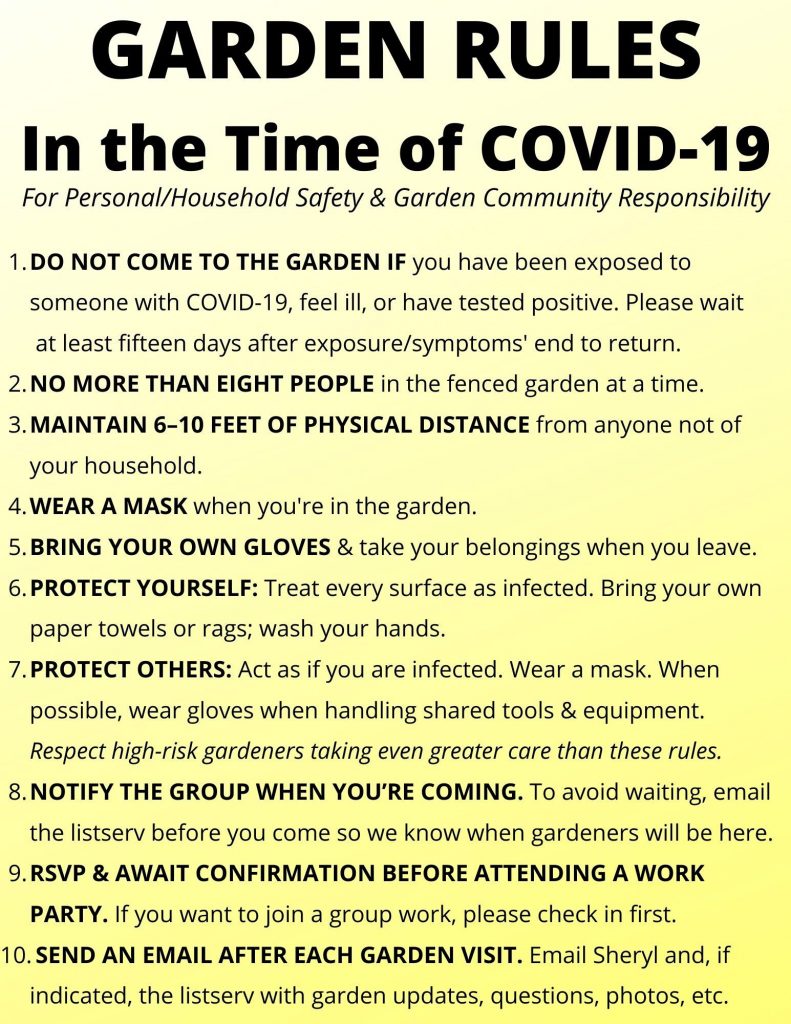 Here's more information on wearing masks from the UVM Health Network and a video of under one minute for masking properly. https://www.uvmhealth.org/Pages/Coronavirus/Staying-Healthy/ready-to-mask-up.aspx
Other Changes This Season
There's no trash or recycling here. Gardeners must take trash, recycling, and all personal belongings when they leave.
A pump bottle of castile soap for handwashing is available beside an outdoor spigot.
Gardeners must bring their own supplies if they wish to sanitize tools and commonly used garden supplies before and after use.
We're not providing or recommending bleach solution, which could damage seeds and plants. (Gardeners wishing to form a supply-sanitization team; they could propose plant-safe bleach-solution usage for team members.)
We've ordered alcohol multiple times; orders keep being cancelled or indefinitely delayed. If it arrives, we'll provide a spray bottle of alcohol.
No bathroom or storage facilities. As a high-risk household, the garden hosts no longer allow non-household members into their home.
The garage is available only with very rare exception, e.g., our garden-walkway-lawnmower goddess.
No pets on the property.
No children on the property unless they are actively gardening and behaving according to the rules as adults would.
Wisdom from Our Mothership
The Vermont Community Garden Network is providing detailed information, which they'll probably continue updating, here: https://vcgn.org/covid-19-guidelines/
Here are VCGN's guidelines; for a clearer, shareable version, visit the link just above.